By Peyton Voorheis
Staff Writer
Walking around campus, a person is bound to see students hard at work – and expressing themselves.
A popular trend across generations is to decorate belongings with stickers. From suitcases to water bottles, it is becoming an ever-growing trend.
Franciscan University students are no exception, personalizing their technology with all different types of stickers.
On a Catholic campus, it might be expected that there are many similar themes in students' self-expression. While that's true, there are just as many unique stickers as there are similar ones.
From faith to fandoms, students in the J.C. Williams Center told The Troubadour about the stickers decorating their laptop and why they chose them.
Freshman nursing major Susannah Brown said she picks stickers "if they're funny or they have some religious meaning to me."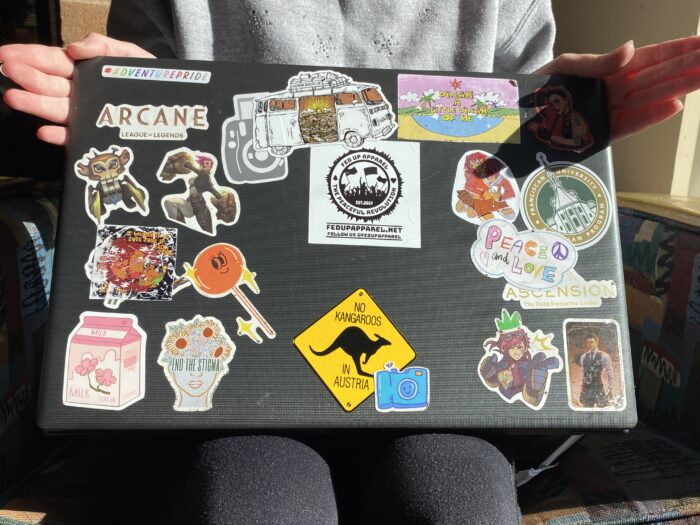 Sophia Libbetti, a senior English and writing major, had a fully decked out laptop, covered in stickers she'd found in a variety of places.
"I usually just sorta end up with them. I like being able to personalize and decorate," said Libbetti.
Some of Libetti's decals were even found locally. "I got this actually at Friday on Fourth; it's like a mental health sticker," said Libbetti.
Many students use their personalization to support causes they believe in. Sophomore Lucia Guevara, a catechetics and clinical psychology double major, said that her favorite sticker was one for the organization "Fight the New Drug."
She described herself as "very passionate about psychology and the fight against pornography from a scientific & research-based perspective."
Senior Andrew Warthen, a political science major, said of many of his stickers, "I was just tabling for YAF [Young Americans for Freedom] one day and I picked them up."
Upon being asked which was his favorite, Warthen pointed to one of Pope Saint John Paul II and added, "My friend Maya sent me this one because JPII is my confirmation saint."
When asked about his laptop decals, freshman Joseph Imholte said, "The Franciscan one is pretty self-explanatory. The other three are actually all from vacations."
Imholte is far from the only one who uses stickers as keepsakes from his travels. Libetti also said on the matter, "Whenever I go places, I like to get a postcard, a pin, or a sticker."
While a lot of students had meaning behind their personalization, just as many chose their decals simply based on things they enjoyed or found amusing.
David Born, a sophomore in software engineering, said his favorite sticker on his computer was the one of "Uncle Iroh, from the show Avatar. Just cause it's funny."
Television was a commonly represented theme in students' choices. Libetti said, "I've got a lot of Arcane stickers, from the TV show Arcane."
From a fun conversation starter to a creative outlet for expression, all across campus, these decorative little details highlight both the differences and the similarities of the student body – with all sorts of neat stories to go with them.